A Personal Finance Flowchart
📚 Story of the week #6
Inertia's a funny thing. Back when I was 14, I decided to give up something for three months for New Year's. The choice was obvious: fizzy drinks. They'd become a staple, and at 14 it felt like a true test of will power.
3 months passed, and I found myself celebrating the challenge's completion with an ice cold can of Coca Cola to quench my thirst on what was a surprisingly warm spring afternoon.
With a single celebratory sip, I'd concluded that Coca Cola was disgusting.
It was too sweet, the fizz stung my mouth, and made my eyes water. How could I have liked this drink so much? How could I have liked any fizzy drink?
Inertia was the answer. Fizzy drinks were a habit, much the same as brushing my teeth, and that small disruption made me realise that fizzy drinks weren't for me. However, forgetting to brush my teeth makes me realise how much I should definitely brush my teeth(!).
The lockdown has been a big disruptor for us all, which means actions driven by inertia have been sapped of their power: habitual morning coffees, Pret lunches, and Saturday takeaways are all being reconsidered.
A more extreme version was being made redundant from Airbnb. While I loved my job, in the absence of inertia's power, I've come to realise how much I love the thrill of being an entrepreneur and running my own business, which has been a silver-lining that I'm grateful for.
Is inertia making you do something you don't want to do?
🌱 A Personal Finance flowchart
With this period of pause, it's prime time to take stock of your finances and see what tweaks you can make.
As a sense-check, below you'll find a flowchart that prioritises the fundamental steps you should take to achieve financial security.
It's not a get rich quick flowchart, and anyone who says they have one is toxic, and should be ignored.
The flowchart will be the first in a series of posts on how one could set up their personal finances in their 20s, and will include what I've learned from economics, working in finance, and what I wish I'd been told sooner.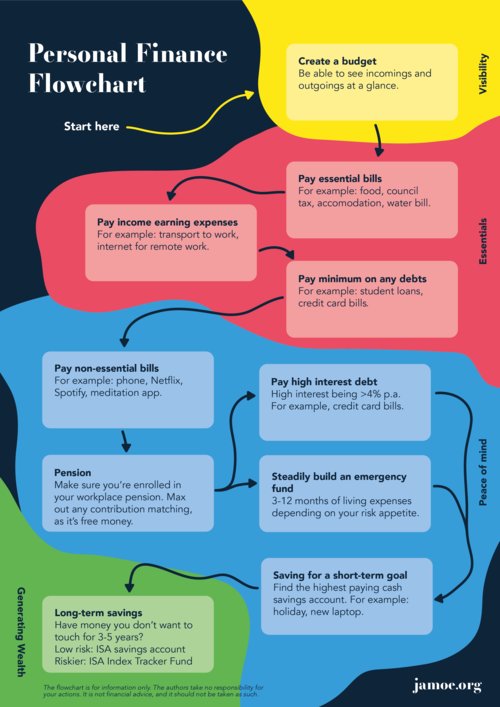 Stay curious,
Jamie